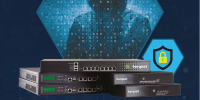 Berqnet Firewall
It is a new generation integrated firewall (UTM) product. Berqnet was launched by Logo Siber Güvenlik ve Ağ Teknolojileri A.Ş in 2015 with the aim of creating solutions for the cyber security needs of businesses of all sizes by its local and expert R&D staff.
The Berqnet series, which is designed and used as an integrated product for this purpose, has been developed by considering the data security of the enterprises, taking into account the efficiency principles and the special usage needs of the domestic enterprises.
The owner of the Innovative Product Award in the SME Branch by the Turkish Electronics Manufacturers Association (TESİD); It was proved its claim in this field by being awarded with the title of the best domestic security software of the year by BTVizyon.
Berqnet has been tested by internet security, whitebox, graybox, blackbox deep scanning methods by independent security analysis firm Corvues Bilişim and has successfully passed all security analysis and has proven that it is the right choice in the field of security.
Who Can Use Berqnet Firewall?
Berqnet, designed to solve the cyber security needs of all businesses; From restaurants and cafes to student dormitories, hotels to municipal institutions, from production facilities to power plants, from government agencies to private businesses, from a small law firm to a medium sized consulting firm, anyone who wants to grow and who has internet in their business processes can use it.
Your Internet Uses
Law No. 5651
Are you recording properly?
Businesses that do not keep their internet records in accordance with the law numbered 5651 may be punished with imprisonment from 6 months to 2 years and administrative fines of up to 15,000 Turkish Liras in accordance with the provisions of the Administrative Procedure Law No. 2577 dated 6/1/1982 due to the misdemeanors defined in this law.
 
All businesses and institutions that provide internet use in accordance with the Law No. 5651 on "Organizing Publications on the Internet and Combating Crimes Committed Through These Publications" are responsible for taking measures to prevent access to content that constitutes crime. maintaining the integrity is also mandatory.
Thanks to the 5651 record retention feature, Berqnet stores all internet usage records in accordance with the law of 5651, the accuracy of the records is guaranteed by legally approved time stamps.
Secure Internet Sharing to Guests (HOTSPOT)
Berqnet Offers Controlled Internet Access to Your Guests. 
Businesses need to pay attention to security and legal requirements while meeting rapidly changing user expectations.
Customers of businesses such as hotels, cafes, restaurants, gyms and shopping malls may request to use the internet connection of the business. In order for the enterprise to meet this demand safely and legally, it must provide internet access in a controlled manner and keep the connection records in accordance with the law.
With the Berqnet Hotspot feature, only authorized customers can connect to the business's internet network and all records are stored in accordance with the law. Through the authorization SMS password, TR identification no. Inquiry can be realized by querying the accommodation information in the hotel and other methods.
Berqnet Provides Integrated Security to Guest Internet Access for Hotels.
Guests of businesses such as hotels, teachers' houses and pensions want to use the business's internet connection. The business must be able to meet this demand safely and legally.
With Berqnet Hotspot Hotel Integrations, the customers staying at the hotel can easily connect to the internet network of the business and the records are kept according to the requirements of the 5651 law. Thanks to the integration between Berqnet and hotel software, guests staying at the hotel; room no., ID no., passport no. and information such as surname can be automatically authorized.
The hotel software that Berqnet provides integration includes Sentez, Elektra, Erbasoft, Basit Hotel, Opera, and EuroProtel hotel management systems. In addition, with the General Database Integration feature, it can be easily integrated with all hotel and site management software that can connect to the database.
Advanced Web and Application Filtering Features
Berqnet, enables employees to use the workplace internet efficiently and safely.
According to research, 21% of employees use the internet for at least 5 hours a week for reasons that are not related to work in the office. This leads to problems that may arise both in terms of efficiency and the use of the internet, which is illegal for employees.
All connections made by Berqnet and employees over the office internet are kept in accordance with the law. You can easily see which sites are entered in the reports. With Berqnet Web Filter feature, internet access can be set as a group or individual, and access to unwanted sites can be blocked completely or at certain time intervals.
Besides, thanks to Berqnet's Application Filtering Features, the desired applications can be easily banned in accordance with the company policies by ensuring the control of the mobile applications connected over the wired or wireless network in the enterprise.
SSL VPN & IPsec VPN Features
Berqnet, offers secure connectivity for employees outside of branches and offices.
In institutions with more than one branch, employees in all branches need to have access to the necessary corporate networks. With Berqnet IPsec VPN feature, a secure solution is provided by installing virtual tunnels between branches.
Thanks to its Backup feature, IPsec VPN also enables backup tunnels to continue without interruption in cases other than plan.
Berqnet SSL VPN feature allows employees to easily connect securely to their office network from their computers, mobile phones and tablets when they are out of the office. In this way, field workers and personnel who need to be connected to the office can establish all the connections they need to make with the center without any threat.
Only in Berqnets: Fully Automatic USOM Integration
OBy signing yet another first in the field of Berqnet, it fully integrates with and ensures that all threat lists published by the center are drawn to firewall devices without any manual processing.
Thanks to this completely automatic process, Berqnet devices learn the latest threats detected by USOM instantly and take a step forward!
Only in Berqnets: Mobil Report Aplication
Berqnet, provides easy access to basic information with the mobile report application.
Berqnet's new generation firewall provides easy access to basic information with the report application designed for mobile devices.
From the application markets of devices with iOS and Android operating systems
Berqnet Report application, which can be downloaded free of charge, has Turkish and English support.
Basic web filter and traffic reports, resource usage reports, network usage reports, system and service information, license information and warnings can be easily seen within the application. When alerts occur on the defined devices, notifications sent to the mobile application can instantly be notified of critical situations. The desired Berqnet device can be restarted from within the application.
Mobile application accounts can be created in 2 different powers: manager and normal, and the reports to be seen can be limited in this way. Unlimited number of Berqnet devices can be introduced and monitored in the Berqnet Report application. Accounts belonging to Berqnet devices defined in the application can be easily transferred to another mobile device if desired.
Berqnet Firewall Specifications
Firewall
tateful package monitoring
Source, target, service, time-based rules
Bandwidth limitation
Static, source, destination based port forwarding
Rule-based routing (PBR)
Address conversion (NAT)
SIP NAT
Multiple external network support
Multiple external IP support in one interface
VLAN support
IP-MAC pairing
Bridge support
VoIP support
Fully automated USOM integration
IDS/IPS ( Intrusion Detection / Blocking System)
Rules by category and signature
Blocking and alarm generation options
List of blocked addresses
Antivirus
Virus, worm, trojan, malware blocking
Automatic signature database update
Web Filter
URL filtering
HTTPS filtering
Filtering by category, file type, word
Customizable blocking page
Aplied Filter
Layer 7 (application layer) level control
Ready rules by category and application
IPsec VPN
Inter-location (site-to-site) VPN
MD5, SHA1 / 256/384/512 hash algorithms
3DES, DES, AES128 / 192/256 encryption algorithms
Detecting the other party's breakages (DPD)
IPsec backup
SSL VPN
Client to site VPN
Tunneling with TCP and UDP
AES128 / 192/256 encryption algorithms
User / group authorization with local database or Active Directory
Option to compress data by compressing
Ability to give clients dynamic / static IP address
WAN Management
Automatic WAN backup
WAN load sharing
Network Management
DHCP server
Ability to distribute static / dynamic IP addresses
DNS proxy
Entering static DNS records
PPPoE
Hotspot
Integrated hotspot solution for guest users
Ability to exclude the desired people
Turkish, English, German, Russian ready language support
User login interface can be customized
Ability to add different languages
To be able to determine the redirect page
Time and date based time limit
Limiting the number of devices of the user
Reports on users
Authorization options

Manual
With TC identification number
By SMS
With hotel database integration
  User Authorization
With local database
With Active Directory integration
With hotspot authorization methods
Records and Reporting
Access to reports with mkbil application tool
Firewall, Antivirus, IPS / IDS, Web filter, Application filter VPV, Hotspot, DHCP, Logs to the Traffic System
Easy access from the device's management interface
Reports in graphical and data formats
Filtering by time
Instant network usage monitoring
Additional filtering options by report type
Reports can be sent to managers by e-mail
Keeping records in accordance with 5651 law
Public Certification Center and Turktrust time stamp integrations
Ability to download the records to the computer
Transfer records to another area over the network
Recordings can be transferred to USB memory
Syslog support
System Management
Turkish and English web management interface
Drag and drop configuration convenience
Central software update
Backup / restore
Alarm notifications by e-mail